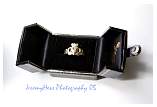 And last, but not least, our WEDDING PICTURES are up! It took a while, but then again, there were nearly 500 pictures to go through! Jeremy and Anthony did an amazing job with our pictures. Please check them out for yourself... and if you are ever in need of a professional photographer, we highly recommend Jeremy Hess Photography.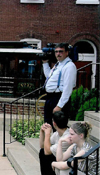 For that matter, we also want to thank Dave Gracey for the phenomenal job he did with our wedding video!
Dave, who not only shoots freelance videos like ours, also works as a cameraman for TV10 in Altoona. He went out of his way to get some great shots of not only our wedding, but a signifcant portion of our reception too! He then compiled six DVDs for us... 3, double disc sets, so that we could give sets to our families. We love that he took the time to make a "wedding" DVD and then a "reception" DVD... not to mention the fact that he got some GREAT footage! Thanks Dave, you're the best!
Of course, the pictures from our honeymoon in Ireland and England are still up and you can check them out HERE. We also have some from guests to post too, and hopefully we will have the chance to do that, before our "lease" on the site runs out in December. In the mean time, if YOU have any random pictures from the wedding, and if it's possible for you to e-mail them to us, PLEASE do. It would be great to look at them and to post them here too!
Further, the info about the people we hired for the wedding is STILL up, in case you wanted to contact any of them. There's follow-up info about what happened with each of them... so, although their pages may seem unchanged at first, if you read carefully, you'll see that there is actually new info on nearly every page. If you would like any more info on any of them, simply e-mail us HERE.
Finally, we wanted to thank all our friends who took the time to be a part of our day! We really hope that you had a good time, because we can't express how important and special it was to have each and every one of you with us. We also wanted to thank our families for EVERYTHING they did to help us. It is impossible to express how fortunate we are to have them in our lives!
Thank you ALL so much... with love, Patrick and Stacy Kain.